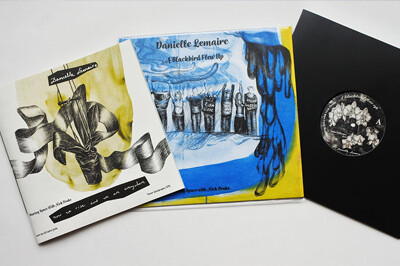 Now We Rise And We Are Everywhere Book & Vinyl Bundle
SKU 00007
Product Details
Following her guest exhibition at The Arches, Danielle Lemaire's beautifully risostencilled book "Now We Rise And We Are Everywhere - Sharing Space With Nick Drake", plus an accompanying 10" vinyl record "A Black Bird Flew Up", is now available to buy.

The book consists of 40 pages of full colour and black and white drawings inspired by the world of Nick Drake. The risostencilled technique reproduces Danielle's drawings with added vibrancy. With texts by Danielle Lemaire and Colin Betts. The vinyl record presents gloomy, intimate, personal and poetic songs, musical pieces and fieldrecordings by Danielle Lemaire, also inspired by Nick Drake.

Produced in a limited edition of only 200 copies, bound by hand, and risostencilled at the pioneer printshop Knust Press in Nijmegen, the Netherlands.
Save this product for later